As I Live and Breathe (2017).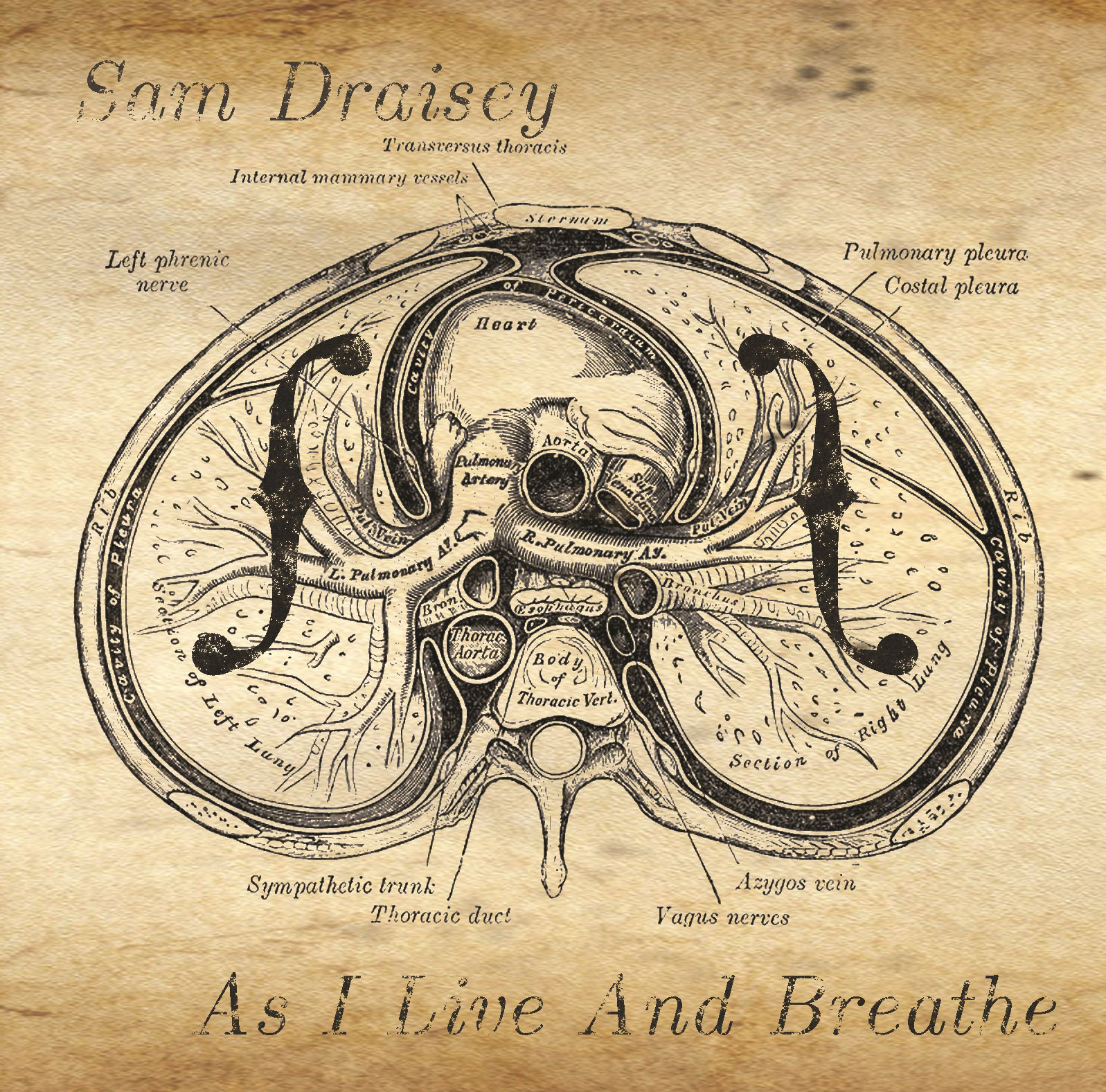 1. Roots
2. We've Got Time
3. Don't Forget
4. Scarecrows
5. The Worst Lie of All
6. Five Years Later
7. I Can't Pretend
8. Settle for Silver
9. Used to be my Hero
10. Let's Not Grow Old
11. I Won't Ask Why
12. Black & Blue
13. The Day That I Was Meant to Die
14. Turning You Down
15. Me & You
Album reviews.
'Wolverhampton singer/songwriter Sam Draisey releases the 'As I Live and Breathe' album. Fifteen songs strong, a long time coming but very worthwhile and tunes like 'Five Years Later' totally explain what Sam stands for. If you are expecting traditional folk then be careful what you wish for, as you've not only got that sound but imagine the voice of a hardened Paul Simon blended with Damien Rice roasted in the political attitude or lyrical magnetism of artists like Billy Bragg. Highlights are 'The Worst Lie of All' for its observations of equality, 'Used to be my Hero' with its superb character assassination and grit, the delicate 'The Day That I Was Meant to Die' which with a title like that isn't quite what you expect to hear as it's beautiful, there's 'Let's Not Grow Old' a wonderful nostalgic mind road trip and 'Turning You Down' with its attention and personal insight into missing someone mixed with a little anger. Hey, this is a real passionate guy, sometimes he shouts, sometimes he whispers but this is deep and absolutely mesmerising from start to finish.'
Nick J. Townsend, Ryan's Gig Guide - Acoustic Album of the Month - July 2017
'Wolverhampton's Sam Draisey hides a deceptively powerful voice inside his slender frame.
The 29-year-old exercises his vocal chords on his new record that will be a hit with singer/songwriter fans.
It's a mixture of softer folk and country vibes with a drop of gritty rock here and there. He sounds a tad like an angtsy James Blunt when aiming high and a young Brian Molko when sinking low. Quite a combination, eh?
The guitar plucking on display from the Unsigned page star in The Ticket is talented, and the soft anarchy that flows through some of his tracks is a joy to hear.
There is a kind of been there, done that feel to the tracks, too. It's a confidence and assured nature which breathes experience rather than cockiness and arrogance.
Take opener Roots. A forlorn melody accompany's Sam's voice for a track that oozes gloominess but stops short of heartbreak. It's a good sound.
Upbeat crescendos permeate Five Years Later, a protest song that inspires rather than scaremongers. This is the kind of track which can fall flat on an unsigned release, sincerity and seriousness can get lost among bad production values. But Sam and his band avoid the pitfalls with ease, he produced and mixed the tracks himself so he shows a keen musical ear in more ways than one here.
Anger does break through in Used To Be My Hero - a different side to the vocals than heard previously. His gentle approach to the music allows his voice to take centre stage. It helps get his message across without being hidden by a wall of sound.
Perhaps the highlight moniker falls on Turning You Down, a lovely slow burner that grizzles raw energy when the rock outro kicks in.
This is a fine example of doing things yourself and could herald the start of something big for Sam Draisey. Scott Matthews has done it, is it time for somebody else to break out?
Rating: 4/5'
Leigh Sanders - The Express & Star - July 2017
Sam Draisey's new album brings protest & love from the heart

If you live in Wolverhampton or South Staffordshire and like music, chances are you've heard of – if not seen – Sam Draisey. Sam's been about for a few years yet hasn't quite reached the grand old age of thirty yet, which will come as shock on hearing new album, 'As I Live and Breathe'. Draisey sings with a real conviction, you feel his words come from the heart, from experience, at times from personal anger about politics, greed and the state of England. There are echoes of Frank Turner here, modern folk and protest. But this is far from just a protest album, there's plenty of love and upbeat melody here to raise a smile – even the songs that deride modern society, apathy and negative attitude such as 'Scarecrows' play along to a positive rhythm – that feeling of "hey, despite how it looks, life isn't all bad so keep your chin up! Things will get better."

A favourite of ours, 'The Worst Lie Of All' tells a story that many from the working class will be familiar with, trying your best to get somewhere but having the world against you, of the wealthy turning a blind eye to the plight of those struggling to make ends meet and of people in power treating the rest of us as political pawns rather than thinking, feeling people.

'Used To Be My Hero' bounds along at quite a pace, another familiar theme for listeners – musicians that had a powerful message and gained a fan-base but ended up middle of the road once they'd become successful – and comfortable, losing their edge and putting out music just to keep people happy and the money rolling in, never regaining that original passion. 'I Won't Ask Why' is a thoughtful ballad about unexpectedly falling in love and cherishing it now it's here, come what may.

There's a lot of experience behind 'As I Live and Breathe'; as well as having several albums under his belt, Draisey is a regular live performer. if you haven't seen him live, it really is worth tracking him down – a recent Facebook post on Sam Draisey Music tells us that he's approaching his 1000th gig since he started out in 2005 (both solo and in bands such as The Replicas). This includes the Molineux, Codfest, various festivals and pub gigs such as the Newhampton Inn and The Crown, Codsall. Live, Sam holds an audience captive – we're looking forward to hearing some of 'As I Live and Breathe' in person.
West Wulf - July 2017